Explore, find and sort reports efficiently
The report menu is designed to facilitate your report management (see below). Especially, you will the following features:
A program list
A search bar
A 'sort' button
Advanced filters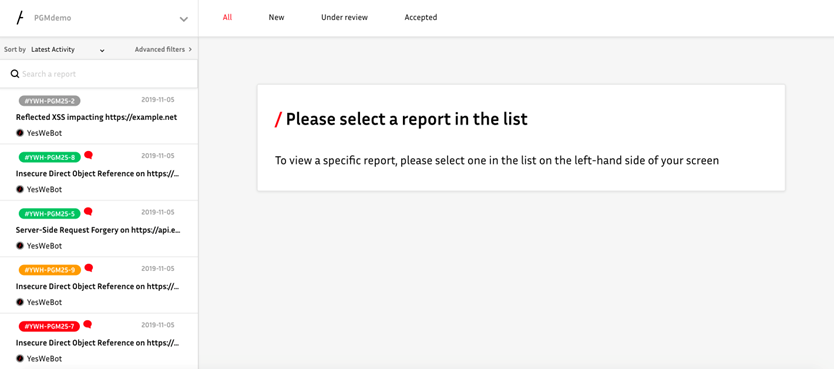 Program list, search bar and sort option
Program list : at the very top left of your report menu, you can select the program in order to show reports only related to this program.
Note that if you select your business unit, you will see all reports from all programs.
Sort option: just below the program list button, you can see a list of proposal to sort the showed reports. You can sort reports by activity, priority or severity.
Search bar : just below the sort option, you can search reports by : title, scope, endpoint, hunter username, report ID and tags.
Advanced filters
With the advanced filters, you can apply and combine filters on different criterias, including :
Report submission time frame
Report status
Report severity
Report priority
In your Reports menu, you will find an 'Advanced filters' button right above the search bar, that will open a list of search criterias.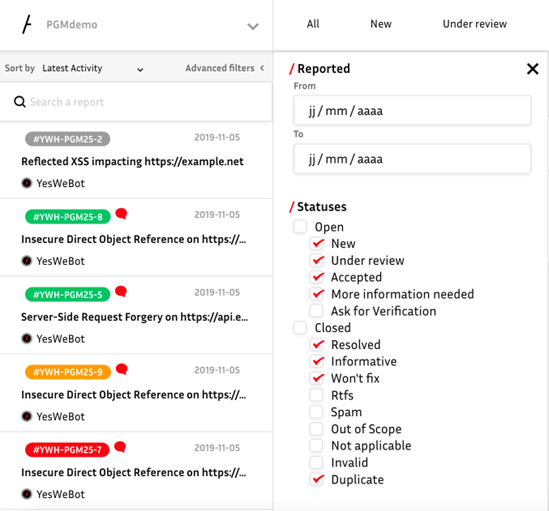 For each criteria, you can select multiple values, as displayed on the screenshot below.